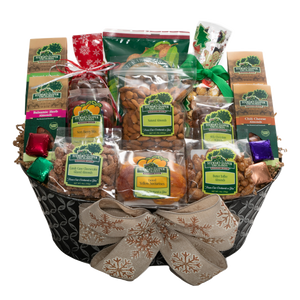 Includes: Balsamic Herb Almonds, Butter Toffee Glazed Almonds, Candy Cane Cheesecake Glazed Almonds, Chili Cheese Almonds, Chocolate Dipped Almond Caramel Chews, Chocolate Toffee Almonds, Christmas Sweet Crunch Mix, Dried Yellow Nectarines, Milk Chocolate Almonds, Milk Chocolate Walnuts, Natural Almonds, Roasted Salted Inshell Almonds, and Very Berry Mix.

Product is arranged in a beautiful silver tin.

Product in baskets are subject to change due to availability and weather conditions, (i.e. chocolate during warm weather).