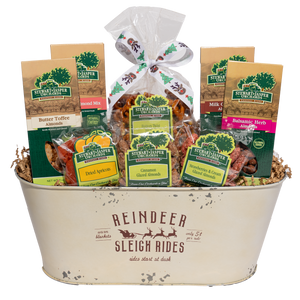 Includes: Balsamic Herb Almonds, Butter Toffee Glazed Almonds, Buttery Twist Pretzels, Cinnamon Glazed Almonds, Dried Apricots, Milk Chocolate Almonds, Natural Almonds, and Strawberries & Cream Glazed Almonds.
Product is arranged in a giftable holiday tin.
Product in baskets are subject to change due to availability and weather conditions, (i.e. chocolate during warm weather).