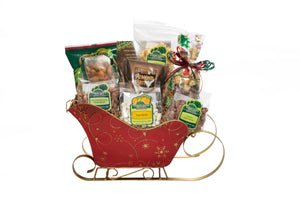 Includes: Candy Cane Cheesecake Glazed Almonds, Caramel Almond Popcorn, Cinnamon Glazed Almonds, Original Almond Brittle, Roasted Salted Inshell Almonds, Sweet Crunch Snack Mix, and Yogurt Raisins.
Product is arranged in a festive tin sleigh.  Perfect Christmas family gift.
Product in baskets are subject to change due to availability and weather conditions, (i.e. chocolate during warm weather).